Howie: Still the band's 'new kid' after 25 years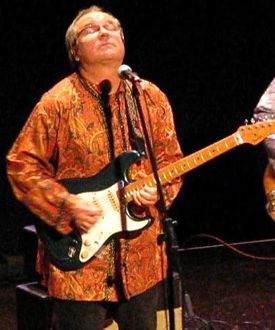 "In a field known for its egocentric prima donnas, Howie Anderson is one of those rare virtuosos who comes off more like Clark Kent than the stereotypical self-absorbed guitar hero." — David Brighton
Howie Anderson still is known to the other members of the Strawberry Alarm Clock as "the new kid." He joined the psychedelic band in 1986.
Howie has written, recorded and/or performed with an impressive variety of artists. The "short list" includes icons such as Arthur Lee (Love), Robbie Krieger (the Doors), Stephen Bishop, Ivan Neville and Spencer Davis.
As a performer, Howie worked on the same bill with Eric Burdon (the Animals), Ben Vereen ("All That Jazz"), Buddy Miles, (drummer with Jimi Hendrix), Jesse Colin Young, (the Youngbloods), Peter Asher & Gordon Waller (Peter & Gordon), Moby Grape, Eric Johnson (Grammy Award-winning guitarist), the Electric Prunes and the Seeds.
The guitarist is well versed in rock, jazz, classical, blues and many ethnic styles of music. He is known as a composer, performer, music director and teacher.
Howie majored in music in college and studied with musicians such as Joe Diorio, Howard Roberts, Ted Greene and Ron Anthony.
Howie's experience as a stage performer, teacher, and his world-class musicianship carries over into the business end of the music industry.