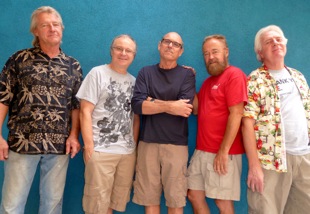 The Strawberry Alarm Clock played its second gig since the release of the new CD, this time at the Whisky a Go Go.
Surprisingly, the July 19 concert was the first time the veteran L.A. band played the rock club.
As with the April Silver Lake concert, the show kicked off with a long driving "Mr. Farmer." The band played fan favorites such as "Strawberries Mean Love," "Rainy Day Pillow" and of course "I&P."
The encore was a unique instrumental take on the Beatles' "Day Tripper" (in 6/8 time), cooked up by singer-bassist George Bunnell.
The new songs from "Wake Up Where You Are" are well integrated into the show at this point. Highlights included "World Citizen" (Randy Seol) "Drifting Away" (Mark Weitz) and the CD title song, "Wake Up" (Howie Anderson). (Get a copy of the new Strawberry Alarm Clock CD.)
Harmonica ace Robert Cowan sat in with the band, as well as Kevin Dippold on flute.
Top left photo: The band during rehearsals for the Sunset Strip show.
Below is the photographic evidence of SAC at the Whisky! (Most photos by Janet Anderson).
Strawberry Alarm Clock in concert
The Strawberry Alarm Clock at the Whisky a Go Go on the Sunset Strip. July 19, 2012.
More Strawberry Alarm Clock photo galleries!