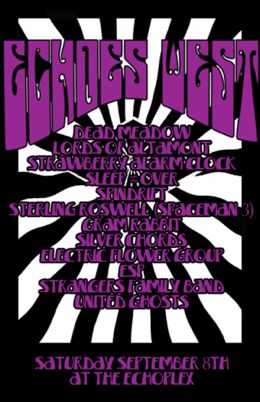 The Strawberry Alarm Clock continues its 2012 revival with a trio of fall shows in Southern California.
The band returns to Silver Lake on Sept. 8 for Echoes West, "a psych music fest" featuring a dozen bands. SAC, no doubt, intends to show the new wave of psychedelic music rockers how it's done.
Then it's down to San Diego on Sept. 29 for the sprawling Adams Avenue Street Fair.
And the Strawberry Alarm Clock revs up for an appearance at Love Ride 29, billed as "the longest-running motorcycle fundraising event in the world." Almost two dozen Harley-Davidson dealerships combined for the Castaic Lake-based event.
At the Love Ride, SAC will perform on the same Oct. 21 bill with Canned Heat — both L.A. bands with rich histories beginning in the mid-1960s. Like SAC, Canned Heat is no oldies act — both bands continue to evolve in the new century, performing songs both classic and new.
George Thorogood and the Destroyers headline, with Jay Leno and Peter Fonda as the event's "grand marshals." The show and ride benefit the USO.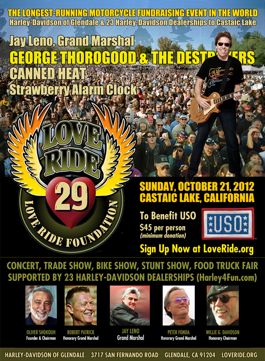 Also getting top billing at Echoes West are hard rockers Dead Meadow and road-tested garage band Lords of Altamont.
Other bands at the psych music festival include Sleep ∞ Over, Spindrift, Sterling Roswell (Spaceman 3, "The Psychedelic Ubik"), Gram Rabbit, Silver Chords and the Electric Flower Group.
View the Echoes West lineup of bands.
Other acts confirmed for the Adams Avenue Street Fair include local crazies Mojo Nixon & Skid Roper, blues guitarist Coco Montoya and rockabilly specialists the Paladins.
The Strawberry Alarm Clock expects to play about 8 p.m., Sept. 29, at the 33rd Street Rock Stage.
SAC performed at the Satellite in Silver Lake on April 25, rocking a youthful and appreciative audience, with longtime band collaborator and new album producer Steve Bartek sitting in.
The Strawberry Alarm Clock are performing in support of their new CD, "Wake Up Where You Are."
The album is a mix of new SAC songs and reinterpretations of their psychedelic rock hits.
They also played the Whisky a Go Go in July. They also performed live and unplugged on K-EARTH radio.
(Updated Aug. 18 with the Adams Avenue info.)