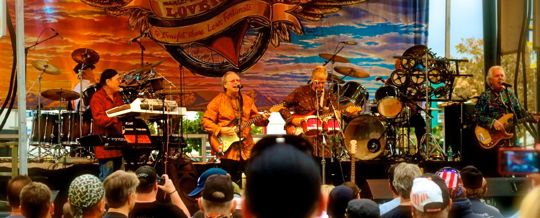 The Strawberry Alarm Clock woke up the SoCal motorcycling elite with a "short but sweet" set at the charity event Love Ride 29.
This time out, the band kicked off with "The World's on Fire" (opening track of their first album) and closed with "Mr. Farmer" (opening track on their latest album).
The early-morning charity show was produced by Walter Roland Moore and his wife, Annet Peairs. "They are longtime friends of the band — great people!" bassist/singer George Bunnell said. SAC performed at Harley Davidson of Glendale.
Love Ride is billed as the longest-running motorcycle fundraiser in the world. It benefits the USO.
Bunnell says the potential for the band to put on its best show ever was there Oct. 21 — but the tech gremlins had other plans.
(Text continues after concert photo gallery)
Motorcycle charity event
The Strawberry Alarm Clock performs at Love Ride 29 in Glendale on Oct. 21, 2012
Of the 30 or so microphones on stage, none actually worked in the wake of a digital board synchronization snafu. One thing led to another, and the band ended up with only two microphones. The show that was supposed to start at 7:15 didn't get going until 8:15 or so.
Here's the set list:
"The World's on Fire"
"Sit With the Guru"
"Lose to Live"
"Incense and Peppermints"
"Tomorrow"
"Mr. Farmer"
The show was "short but sweet," Bunnell says.
Longtime band associate Steve Bartek (Oingo Boingo) performed, as did Robert Cowan of the Neville Bros. band on harmonica.
L.A. Councilman Tom LaBonge presented the Valley rockers with certificates marking the 45th anniversary of "Incense and Peppermints" hitting No. 1. Jay Leno and the mayor of Glendale were on hand as well.
The band accepted the L.A. honors for Lee Freeman, who died several years ago, and for Ed King, who now lives in Nashville.
After the show, the band headed north to ride destination Lake Castaic, where they were part of the celebrity introductions. An emotional Randy Seol, the band's drummer/singer, told the crowd of how the musicians grew up together and were lucky to still be performing as friends.
Also performing at Love Ride were Canned Heat, and George Thorogood and the Destroyers. Leno and Peter Fonda were event "grand marshals."
The Strawberry Alarm Clock have been performing in support of their new CD, "Wake Up Where You Are."
The album is a mix of new SAC songs and reinterpretations of their classic psychedelic hits.
More new Strawberry Alarm Clock songs are in the works, keyboardist/singer Mark Weitz says.
Photos by Claire Bunnell and MacMac
Other band performances in 2012: