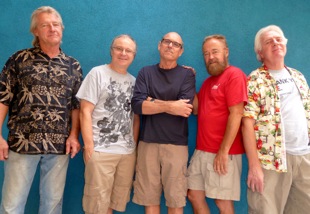 The Strawberry Alarm Clock tops the bill as the Sherman Oaks Street Fair revisits the psychedelic 1960s on Oct. 19.
The band's set will be bracketed by performances by a couple of Beatles and Doors tribute acts. The Strawberry Alarm Clock is the real deal, of course, with original members performing new songs from their latest CD, "Wake Up Where You Are," as well as its classics such as "Incense & Peppermints," "Tomorrow" and "Sit With the Guru."
Video update: Check out the show:
The Strawberry Alarm Clock's set is scheduled for 3 p.m. on Sunday, Oct. 19. It's a home turf show for the band, one of the best known rock acts out of the San Fernando Valley.
The 24th annual Sherman Oaks Street Fair sprawls across nine blocks of Ventura Boulevard, running from Van Nuys Boulevard to Kester Ave.
Sixties nostalgia is a major theme for this year's Street Fair. In addition to the Wild Child and Paperback Writer tribute bands, organizers have set 50th anniversary tributes to the surfing film "The Endless Summer" and the 1960s sitcom "The Munsters." Also look for appearances by actors from "My Three Sons."
The Street Fair bills itself as the largest event in the San Fernando Valley. It runs from 10 a.m. to 7 p.m., featuring more than 100 vendors, classic cars, arts & crafts and carnival rides.