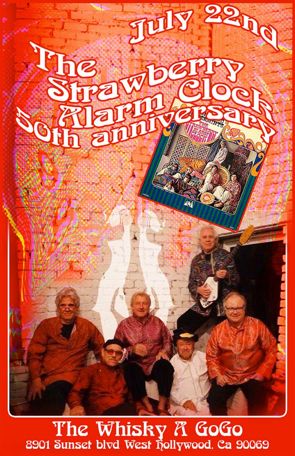 The Strawberry Alarm Clock is wound up to celebrate its 50th anniversary with a trio of 2017 shows in the Southern California area.
Saturday, July 22, finds the Strawberry Alarm Clock headlining back at the Whisky A Go Go in Hollywood. Scheduled support are Write Minded, Three Sides and Return of the Leech. Buy tickets for the Whisky show.
(View 2012 Whisky show photo gallery.)
The Strawberry Alarm Clock plays a pair of shows the next night, Sunday, July 23, at Bogie's Bar in Westlake Village. The shows, which have separate ticketing, are at 6 p.m. and 8 p.m.
The band — joined by Steve Bartek — played the Starry Nights music festival in Santa Barbara on Saturday, March 18. SAC made its first appearance in Santa Barbara since 1967. Headliners for that night were the Kills.
The band has been hard at work rehearsing for its 2017 concert run.
Stay tuned for news of more gigs.