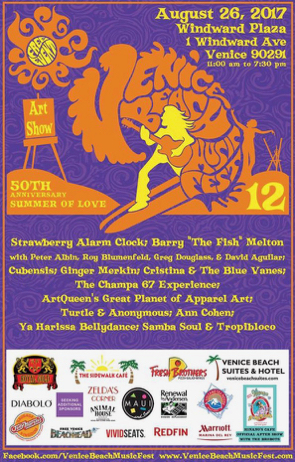 The Strawberry Alarm Clock's 50th-year celebration continues with a late-summer appearance at the Venice Beach Music Fest.
The band is headlining the Saturday, Aug. 26, event, supported by Barry "The Fish" Melton of Country Joe and the Fish Fame.
The Venice Beach Music Fest runs from 11 a.m. to 7:30 p.m. at Windward Plaza (1 Windward Ave.) in the famed Southern California beach town. The Strawberry Alarm Clock goes on at 6 p.m. and tickets are free.
The appearance is another that brings back memories of the Summer of Love: SAC played Venice's hippie hotspot the Cheetah Club in 1967, during filming for the movie "Psych-Out."
The upcoming festival appearance comes on the heels of 2017 Strawberry Alarm Clock shows at the Whisky A Go Go, the Starry Nights festival in Santa Monica and Bogie's Bar.
Multi-instrumentalist Steve Bartek again will join the band for the upcoming festival show.
Barry Melton started Country Joe and the Fish with Country Joe McDonald, first finding fame with the psychedelic music classic "Electric Music for the Mind and Body." His All-Star band includes Roy Blumenfeld (the Blues Project), Peter Albin (Big Brother and the Holding Company), David Aguilar (Big Brother) and Greg Douglass ("Jungle Love").
Other performers include Champa 51, appearing as the Champa 67 Experience; Grateful Dead covers act Cubensis; and Cristina and the Blue Vanes.
> Read George Bunnell's memories of playing the Cheetah Club.