Mapping the other road to the Strawberry Alarm Clock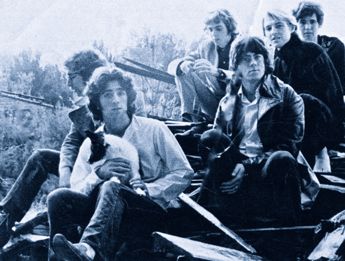 By George Bunnell
The inception of the Strawberry Alarm Clock from the non-Thee Sixpence side of things isn't well documented, largely because there were no recordings (or record releases I should say).
Many Strawberry Alarm Clock (SAC) songs, however, came from the bands Randy Seol, Steve Bartek and I were in, including Waterfyrd Traene (pre-SAC), Public Bubble (during SAC) and Buffington Rhodes (post-SAC).
There were two big-time recording sessions, one with Dave Hassinger at the Sound Factory, and one with Bill Lazarus at Sunset Sound. There were probably 10 songs in all recorded but both masters were stolen! The post-SAC incarnation broke up before any success was realized. There were a handful of awesome concerts and one great review in the Herald Examiner.
The Strawberry Alarm Clock came about by parts of two bands, Thee Sixpence and Waterfyrd Traene, morphing into one.
Here's the Waterfyrd Traene back-story.
In 1963 the Bartek and Bunnell families moved in next door to each other in Woodland Hills, California. 

The month was November.
Life was mostly as it had been in the 1950s.
The Beatles had just come on the scene and it was a happy time. 

Then tragedy struck.
The president was assassinated! 

The world changed overnight and became a scary place.
Not as scary as it is now, but for the times.
Music was, as it always is, a safe place to hide.
The Barteks and the Bunnells did everything together: church, school, sports, vacations, and for Steve and Jim Bartek and George Bunnell … music!
The key factor was the musical prowess of Steve Bartek.
He was already an accomplished flautist and was beginning to pick up on other instruments.
Jim and George were taking guitar and bass lessons respectively.
Pretty soon the three were able to play old jazz standards from beginning to end. It's easier when you have a "ringer" that can read anything put before him as was the case with Steve.
Another neighbor, Ron MacIntyre, would soon join them on drums.
That band was called PFFFT. Jim, George and Ron were classmates.
Steve was couple of years younger.
He was in junior high while the rest were in high school.
It was in high school that George met another guitarist, Steve Schoenholz.
They still play music together.
Schoenholz started coming to rehearsals and eventually brought over his friend Randy Zacuto.
George also played in Schoenholz's band called the Rumblers (1965).
Zacuto was the premier guitarist in their school, Taft High in Woodland Hills.
He also taught at the local music store. One day a kid from Riverside named Randy Seol walked into the music store looking to get a job teaching drums and vibes (1966).
The two struck up a conversation, realized they had similar interests in music and so they set up a rehearsal.
Zacuto called George and said he met this incredible drummer who had already made records! 

At that point Zacuto and Bunnell were jamming with an organ player named Fred Schwartz and a singer named Chris Jay.
They all met up at Seol's parents house where Randy had his double bass drums and vibes all set up in the living room.
They jammed for hours, playing Beatles songs, Who songs, Yardbirds songs, etc.
All the while George and Steve Bartek were writing songs together.
They had quite a few by this time. Randy Seol liked those songs and started to learn the lead vocals for them: "Rainy Day Mushroom Pillow," "What's It Made Of'" (later to become "Strawberries Mean Love"), "Birds in My Tree" and "Paxton's Backstreet Carnival."
Pretty soon the jam band turned into a real band, rehearsing every day after school.
It was during this time that Fred Schwartz started writing a song called "Colours" (which later became "The World's On Fire").
They came up with the name Waterfyrd Traene because it sounded "heavy." (Photo, above right: A early shot of Waterfyrd Traene. From left, George Bunnell, Chris Jay, Randy Zacuto — founder of Mighty Mite guitar parts — Randy Seol and Fred Schwartz.)
In April of 1967 Randy Seol met a band called Thee Sixpence who were looking for someone to help them with vocal harmonies in the studio.
The song they were recording was "Incense and Peppermints." Randy did most of the harmonies on the record.
A friend of Thee Sixpense, Greg Munford, sang the lead because the track was in his key and he sounded best on it.
Gene Gunnels had played the drum track but his girlfriend made him quit the band so they asked Randy if he'd replace him.
Randy agreed and started playing weekend shows with them in Santa Barbara. Before they knew it, "Incense and Peppermints" took on a life of its own in the Santa Barbara area. It was getting heavy airplay on KIST, the local rock station. DJ Johnny Fairchild was a friend of the band's manager, Bill Holmes.
Shortly thereafter Holmes took the single to UNI Records.
They agreed to a limited release. The song did so well in local markets that they were ready to go national, but not without an album to back it up. Randy immediately insisted that the band hear the songs George and Steve had written. He was prepared to sing them as well. They said OK.
George and Steve went over to keyboardist Mark Weitz' house in Van Nuys where they played all their songs.
Guitarist Ed King gave it the green light.
Within no time they were in the studio recording the tracks.
To make things more expedient they asked George to play bass and sing harmony since he knew the parts and then had Steve play flute on "Rainy Day Mushroom Pillow" as well as on Fred Schwartz' "Colours."
Upon the album's completion, George and Steve were asked to join the band.
Steve had to decline as he was only 15 or 16 years old and his mom said no.
George was 18 and said yes.
Greg Munford was also asked in but refused as he felt his own musical endeavor had merit. 


Let's detour for a quick story:
One of the first shows that George did with the now Strawberry Alarm Clock was at the Hullabaloo Club in Hollywood opening for Love. Oddly enough the opening act was The Public Bubble, which consisted of George and Randy's old band mates: Fred Schwartz, Randy Zacuto, Steve Bartek and Chris Jay joined by another high school pal, Bruce Hubbard.



Sometime during that evening Fred got into an argument with Bill Holmes over the song "Colours." Fred didn't want the Strawberry Alarm Clock to release it; he wanted to save it for his band. Holmes told him it was too late; we had already recorded it and the album was ready to be released.

Fred attacked Bill with a phone receiver.

It was mayhem backstage. That night after the show Holmes wrote a whole new set of lyrics for the track (and called it) "World's On Fire."

He never gave Fred credit for the music! He also failed to give Steve Bartek credit for his flute playing on the album.

And no credit was given to Greg Munford or Gene Gunnels for that matter.

When Arthur Lee and Love came on stage to close the show Arthur asked Steve Bartek to come up on stage and play flute with them!

Steve holds that memory very dear.
When the Strawberry Alarm Clock broke up during the recording of the third LP, "The World in a Seashell," George Bunnell and Randy Seol rejoined their pals — Randy Zacuto, Fred Schwartz, Chris Jay and Steve Bartek (now playing lead guitar) — in what would become Buffington Rhodes.
Buffington Rhodes lived together, played every day but never played live until they were so very ready.
The first show was at the Shrine in Los Angeles with, of all bands, Arthur Lee and Love. Read the Herald Examiner's review (opens image).
Also on that bill were Procol Harum and Chicago Transit Authority.
The very next week Buffington Rhodes played at the Whisky A Go-Go with Ten Years After and Chicago … again!
Things were looking real good.
The band went into the studio, first with Dave Hassinger and next with Bill Lazarus.
All was good but then there was internal combustion. Bang! Randy Seol quit and ran off to Hawaii without a word.
Randy Zacuto and Chris Jay got into a car accident; Randy's pelvis shattered in 27 places and he was in a wheel chair for six months!
Fred got the rest of the band arrested for pot by giving an undercover cop a bite of an Alice B. Toklas candy bar!
Steve Bartek got mono and was incapacitated for three months.
Then when things couldn't get any worse, Bill Holmes called up and asked us to go on a mini tour as the Strawberry Alarm Clock!
We had no guitarists so our singer, Chris Jay, learned the parts and we went out as a four-piece.
We had a van with all the equipment and us stuffed in it.
It broke down and then we were on a train!
Somehow we made it home. We did a show at the Anaheim Convention Center. Then, which should have come as no surprise, Bill Holmes didn't pay us.
He simply said he had no money.
We were flat broke at the time but had nothing to lose; we had even been in jail!
We really wanted to do some damage but never did though.
The band was asked to back up Dave Mason on his debut album and we had a couple of rehearsals.
Fred Schwartz actually came up with the arrangement for "Only You Know and I Know" and then Fred went into self-destruct mode.
We all went our separate ways.
Copyrighted and originally posted on 60sgaragebands.com by Mike Dugo.