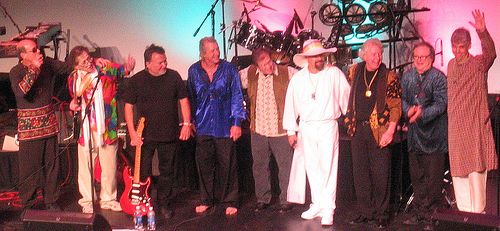 April 29, 2007: Roger Ebert's Overlooked Film Festival (aka Ebertfest) in Champagne, Ill. For screening of "Beyond the Valley of the Dolls" (group reunion picture above).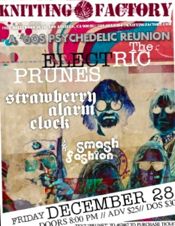 Aug. 18, 2007: Fuzzfest Northwest at the Mount Tabor Legacy theater in Portland, Oregon. With the Electric Prunes and the Chocolate Watch Band.
Sept. 15. 2007: Malibu (California) Inn.
September 2007: Love-In: A Musical Celebration festival at Birch North Park Theater in San Diego. With Peter & Gordon, Buddy Miles, Jessie Colin Young.
October 2007: The Pig and Whistle in Hollywood, Calif.
Nov. 3, 2007: Cavestomp. Brooklyn, N.Y. With the New Colony Six.
December 2007: Disneyland on the Tomorrowland stage (K-Earth event). Anaheim, Calif.
Dec. 28, 2007: The Knitting Factory in Hollywood.
March 2008: Susan G. Komen for the Cure concert at the Rose Bowl in Pasadena, Calif.
Jan. 23, 2011: The Actors Gang Theater in Culver City, Calif.
TV and radio: Live on "The Gary Bryant Show" (K-Earth) and on the KUSI morning TV show (San Diego).
View list of 1960s performances by the Strawberry Alarm Clock