The Strawberry Alarm Clock has a message for fans: New music is on the way.
Under the guidance of producer Steve Bartek, the band has been busy laying down tracks for a new CD.
(Update: "Wake Up Where You Are," the first new album from the Strawberry Alarm Clock in over 40 years, is now available. It was released in March 2012.)
The album includes brand-new songs, a killer cover song and rerecordings (or reinterpretations) of some tunes from the band's classic period — the late 1960s. (Read a track-by-track breakdown of the CD songs.)
Unlike some other '60s rock acts, however, the SAC has no intention of leaning on songs from their younger days on future releases.
"These new songs were done to test the waters," says SAC keyboardist Mark Weitz. "It's a springboard to a second new album of all-new original material. We now are dedicated to recording new music."
(Photos: Top of page, from left: Mark Weitz, Randy Seol, George Bunnell and Howie Anderson. Below: Weitz takes a break in the studio.)
SAC bass player George Bunnell says the original plan "was to embark on a recording project by revisiting and recording some of the old material 'just to see if we could work together' — and also to see what we sound like this many years later. Like, do we still sound like the SAC?
"Our real intention was to write and record new songs. We just wanted to get back to our roots a bit, establish a method and move on from there."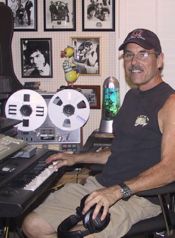 Weitz says of the producer: "Steve (Bartek) had a tremendous role in the new recordings (for the CD). Without his patience, knowledge, vision and experience — not to mention his studio and the massive amount of donated studio time — this project never would have happened."
Bartek (Oingo Boingo) has a long history with the band, dating back to before they hit the charts in 1966. He last played as a member of the Strawberry Alarm Clock during 2007-2010, but left due to his insanely demanding schedule scoring films with Danny Elfman (his Oingo Boingo bandmate).
The core band members — Bunnell, , Weitz, Howie Anderson, Randy Seol and Gene Gunnels — played live in the studio, just like in the old days. "We try to record together," Weitz says. "Everything is mic'd, and we play and sing as a group. We try to musically overdub as little as possible."
Bunnell recently answered a fan's question about "Incense and Peppermints," which is MIA on the CD: "The song is a difficult act to follow. There are so many serendipitous reasons for that original track coming together as it did, as well as a healthy amount of disdain over the mishandled writer's credits and the possibility of us adding more revenue to that handbag.
"I think the track was doomed from the get go. We did have a nice (new) arrangement for it, but the original version is is what it is, because it is what it is. So we let that be."
There are two alternate tracks on the CD. Both are extended versions of songs on the disc. One is the surprisingly psychedelic Seeds cover "Mr. Farmer." (Appearing on an upcoming Sky Saxon memorial tribute CD set.) The other is the SAC classic "Sit With the Guru" revisited with a long drum solo.
Here are the songs on the upcoming CD in the projected running order:
1. Mr. Farmer (single version)*
2. Strawberries Mean Love
3. Hummin' Happy
4. Birds in My Tree
5. World Citizen*
6. Drifting Away*
7. Lose to Live
8. Barefoot in Baltimore
9. Charlotte's Remains*
10. Sit with the Guru (classic version)
11. Tomorrow
12. Wake up*
13. Mr. Farmer (extended with psychedelic jam)*
14. Sit with the Guru (extended with drum solo)
* = New