George: 'We even learned songs — surf songs. It was 1961.'
I was born June 9th, 1949 in Lawrence, Mass.
We lived in North Andover with my maternal grandparents, the Giarrussos, until my folks got their own place. Shortly thereafter, my dad, who was in the Navy, shipped off to Korea.
My mom's early influence on me was through art. She was, and is, a talented artist.
Then my dad was stationed in Norfolk, Va. The place we stayed in had a piano. I was only 2 or 3 but they couldn't keep me away from it.
At that point (1952) my parents and my grandparents all decided to move together to California.
We drove our 1947 Chevy Coupe. It was a wild ride. We had a place to stay as my grandfather's brother Pete had an Italian deli and café in North Hollywood. They lived behind it and were happy to have us move in until we could find a place of our own.
My grandaunt and uncle had two of their four kids still at home. Gino and Raymond. They had a band! In the living room was an organ, an electric guitar and a drum set. I was in awe!
I was only 3 but it made a tremendous impression on me.
Then to top it off, my grandaunt was a showbiz mom. She had the boys' days occupied with dance, music and acting lessons.
My cousin Raymond was about 11 years old and was getting some starring roles. He was on "Lassie" and was in the movie "East of Eden" and bunch of others.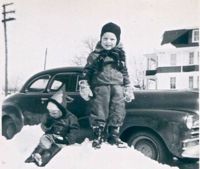 My parents took jobs at Lockheed Aircraft and my grandparents opened a 5 and 10 cent store next door to Nudie's Rodeo Tailors. I hadn't started school yet so I was taken care of by my grandaunt and grandmother.
My grandaunt took me to all the auditions and dance and music lessons, and to the Nudie's store, which provided plenty of entertainment. Their clientele were the who's who of country & western music, TV shows and Western movies. Nudie had a daughter who was about my age so I had a playmate. We bounced back and forth between the two stores all day. Nudie played mandolin and many of the other pickers would come by and jam — and drink!
They all loved my grandparents and loved my grandma's lasagna. It was legendary.
All this was crucial because as we moved forward I was compelled to play music. I first wanted to play fiddle. But, in school that meant violin and the Christmas show, the Easter show — no fun. Then I tried the accordion like my cousin Gino. The walk to school proved to be torturous, so that was the end of that. At first I resigned myself to the idea that I would just sing instead of play an instrument. I joined the chorus, the glee club and the choir. That was OK but not too fulfilling.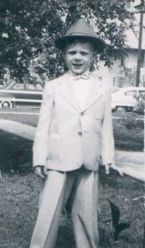 When I was 12 I started tinkering around with the neighborhood guitar. We even learned songs — surf songs. It was 1961.
It wasn't till 1963 — when we moved to Woodland Hills, right next door to the Bartek family — that my true musical ambitions came to fruition.
Steve Bartek was 2 1/2 years my junior but already was an accomplished flute player. His brother Jim and I were the same age.
Eventually I discovered that I liked playing bass parts. My parents got me lessons at Wallach's Music City.
Jim started taking guitar lessons. Another neighbor, Ron, took drum lessons. We had our first band. We played old jazz standards, no vocals.
After a while Steve and I began to write songs — "make them up" as we called it.
Soon our friends heard some of them and reacted favorably. Very encouraging!
Not long after that, Randy Seol was asked to do some background vocals for a band called Thee Sixpence. I can remember the day he brought me the All American Records 45 of "Incense and Peppermints." Randy had a portable record player and we sat at Don's Royal Pup eating hot dogs while he played the band's song.
I thought the record sounded kind of tinny. I was totally into the Who and the Yardbirds at the time and liked a more bombastic sound. My friends and I were probably a bit envious. Nevertheless, we congratulated Randy on his work. Good thing because not long after that the song started to get a bunch of airplay, which led to a record deal on a major label … UNI Records.
Shortly thereafter the album deal came, and Steve and I were asked by Randy to come to a band rehearsal and play them all our songs. We did and the rest is history!