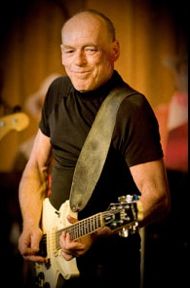 Jimmy Pitman joined the Strawberry Alarm Clock for the recording of "Good Morning Starshine," a star-crossed album in several respects.
"I engulfed myself in a bit of rock 'n' roll fame," Pitman said today, using a most appropriate verb. He joined a famous band that was beset by legal and personnel problems — one that had just about run its course.
Pitman was best known as a member of the Nightcrawlers, a Florida band that had recorded the 1965 garage band classic "My Little Black Egg." He joined the classic version of the Daytona Beach band just before it broke up.
Jimmy Pitman came to L.A. with the help of Murray Wilson, father of three of the Beach Boys. He brought to town a Southern twang and a love of the blues.
Hanging out on the Sunset Strip in its glory days, Pitman says, "I met and became friends with the likes of Clapton, Morrison, Hendrix, Buddy Miles, the boys from Iron Butterfly and many more."
In Hollywood, he hooked up with his Florida pals Gregg and Duane Allman, jamming with their short-lived group the Hour Glass.
He joined the Strawberry Alarm Clock in 1969, after it had lost several key members.
Remaining SAC guitarist-bassist Ed King and keyboardist Mark Weitz both appreciated Pitman's talents, if not the direction the band took as a result of his hiring.
"I considered Pitman to be a very strong songwriter, though his songs didn't exactly fit our band's reputation and style," King has said.
Weitz recalls of Pitman: "He was a good guitarist and lead vocalist. I wrote with Jimmy and we worked well together as writers.
"We put a lot of faith in him (since) he was our lead vocalist. But his style steered us away from our psychedelic roots. We were losing our fan base. When (record label) Uni heard the new material we recorded, they turned cold on us."
"Good Morning Starshine" and its singles failed to light up the charts. It proved to be the Strawberry Alarm Clock's final album.
Pitman left in mid-1969, replaced by Paul Marshall (currently of I See Hawks in L.A.).
After his exit from the Strawberry Alarm Clock, Pitman continued with his bluesy musical sound as the frontman in Jumbo, a band signed to Lou Adler's label. He also produced and promoted other rock acts.
Pitman has lived in Jacksonville, Fla., since the mid-90s, mostly keeping a low profile. He never stopped writing songs, though, and in 2007 he started Big Bad Wolf, which plays "originals and classics" for the Baby Boomer crowd. (Listen to three BBW tracks.)