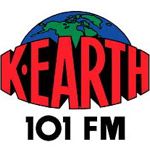 The Strawberry Alarm Clock will perform a bright-and-early unplugged set on K-EARTH 101 this morning (Friday).
The occasion is the 10th anniversary of the L.A. station's Morning Show With Gary Bryan. The broadcast begins at 6 a.m. and the Strawberry Alarm Clock is set for midway through the 7 a.m. hour.
All band members are performing, along with longtime collaborator Steve Bartek (Oingo Boingo).
The Strawberry Alarm Clock, fresh off the release of their new CD, "Wake Up Where You Are,"
also performs next Thursday night at the Whisky a Go Go.
The band has done several performances in connection with morning host Bryant. Also set for this morning's broadcast are Peter Asher (Peter & Gordon), the Nelson Twins (Ricky Nelson sons) and Ron Donte of the Archies ("Sugar Sugar"). SAC and Asher played together several years ago at Love-in: A Musical Celebration in San Diego.
The broadcast originates from Gladstones in Malibu, and there will be cake.