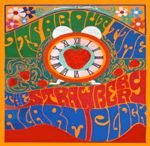 "Wake Up Where You Are," the first new album from the Strawberry Alarm Clock in over 40 years, is now available.
The CD can be purchased via the "Wake Up Where You Are" product page (Global Recording Artists web site). Or via Amazon.
.
The album is a mix of new SAC songs and reinterpretations of their psychedelic rock classics. "Wake Up Where You Are" kicks off with the Strawberry Alarm Clock's blistering cover of the Seeds' "Mr. Farmer." The album was produced by longtime Strawberry Alarm Clock collaborator Steve Bartek.
Ed King, the Strawberry Alarm Clock guitarist who went on to fame in Lynyrd Skynyrd, had this to say about the album: "The album is a labor of love. I wish I lived closer so I could take part. The guys play better than ever and the addition of Steve Bartek makes it now the way it should've been. I think his parents wouldn't let him join the band! 'Mr. Farmer' is my favorite track. Mark Weitz NAILED it."
The band — currently Mark Weitz, George Bunnell, Randy Seol, Howie Anderson and Gene Gunnels — will perform a rare L.A. concert on April 25 in support of the CD. The Strawberry Alarm Clock last performed publicly in November 2010.
More about the Strawberry Alarm Clock CD:
Fan review of "Wake Up Where You Are"