Steve: 'I was asked to join the band. My mom said no.'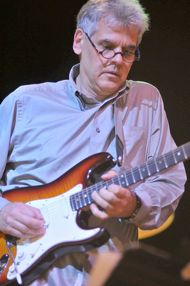 I grew up next to George Bunnell, the Strawberry Alarm Clock's bass player. Began flute lessons at 8 and then took up guitar at the ripe old age of 11 — because of schoolyard humiliation and the inspiration of the Beatles, Yardbirds, Gerry and the Pacemakers and so on.
Also, I could sneak into my brother Jim's room when he was gone and play his guitar. George and I would write songs in our bedrooms, taking titles from books and using whatever chord progressions we happened to have under our fingers.
When George's onetime bandmate Randy needed songs for a band that he'd auditioned for — the Strawberry Alarm Clock — we had the opportunity to have our songs played by the group. We got to sit around for a whole day at Original Sound studios and watch them record. I was given a take or two for my little flute parts.
It was inspirational to see the band work and be part of a recording. That was the late '60s, as you probably know.
I was then graciously asked to join the band because of our songs and the flattering thought that a 14-year-old flutist/guitarist could be of use to a rock band.
But my mom refused to let me join.
At the time it was devastating, but undoubtedly I was way too young to handle it well. So with the success of the Alarm Clock, my parents loosened the reins enough to condone my studies changing from pre-med to music. I do thank the Alarm Clock income for that!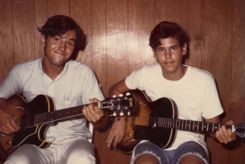 (Photo: Jim Bartek, left, and Steve)
I went to UCLA studying composition and became involved with the Ethnomusicology department there. I studied the Chinese pipa and di, some African percussion and played in a Bulgarian ensemble. Mostly, though, I spent long evenings in a Javanese Gamelan ensemble, intoxicated with the trancelike melodies and the clove cigarette smell.
College also introduced me to Messiaen, Harry Partch and his microtonal ensembles, Stravinsky and a year or two of classical guitar music. It was also the time that Django Reinhardt became an obsession.
After college I played in a big band, performing at a Holiday inn, proms, bar mitzvhas and the like, as many musicians do, until was asked by the brother (Josh) of a dear high school friend (Peter Gordon) to audition for a theater ensemble in which he was playing. I saw a video and immediately wanted in!!!
The Mystic Knights of the Oingo Boingo had just lost their guitarist, who specialized in Django, so part of my audition involved showing I knew the style. Danny Elfman, the leader of the band, had been in a Balinese ensemble at Cal Arts for a bit so we also connected on Indonesian music styles.
Danny was trying to whip what was an interesting street-theater group into a musically tight theatrical ensemble much like the Grand Magic Circus that he had played with in France. I was damn happy to get involved, not very rock and roll but I liked it. We did Cab Calloway, Duke Ellington in addition to homemade Balinese Gamelan and African balafon ensembles.
The group came to a crisis point in the early '80s as its street-theatrical nature started to be at odds with the venues offered. Danny, meanwhile, had taken a turn in starting to write more songs. After a few forays into pop hybrids his writing became more rock oriented and so did the Oingo Boingo personnel. We somehow made the transition from theater act to rock band, eschewing most of the theatrics, for a while.
(Photo: Steve in a Carvin guitar ad.)
In the mid-'80s, Danny sought an opportunity to write music for a film, both of us having enjoyed a taste of it when he wrote music for his brother Richard's film "The Forbidden Zone." The opportunity came in a much bigger way than expected, with "Pee-wee's Big Adventure." Danny dragged me along as an "arranger." Since the movie became a hit, the opportunity to learn as we earned became apparent — and I have been his orchestrator ever since.
During that time Oingo Boingo slowly became ignored by radio stations and it became harder to play live except for California and a few other places. Danny decided to end it in 1995 with a farewell concert and video. Good fun to say goodbye.
I am leaving out lots of things all along the way here that can be found elsewhere on the Internet if anyone is so interested.
Since then I have been mostly orchestrating for Danny, Jon Brion and Stephen Trask. I've written the occasional film score — "Carolina," "Cabin Boy, " "Novocaine," "The Art of Travel."
I've been playing guitar thanks to the support of Bear McCreary. I worked as his guitarist on "Battlestar Galactica" and shared guitar duties with Ira Ingber, Brendan McCreary and Ed Trybek on many of Bear's projects. I thank him for resurrecting my playing career. I had the opportunity to produce his wife's album a couple years ago and played on both Brendan's and Ira's new albums (2011).
A few years ago, George enticed me into playing with the Strawberry Alarm Clock again because of a concert that sounded fun but fell through. Since we had rehearsed we kept going and started recording stuff in my home studio — just for documentation at first, but then we also did some of the guys' original material.
Unfortunately my responsibilities with Danny and other work overtook my time for staying active with the band this past year or so. But I try to be of assistance whenever I can and was very glad they just decided to put out the recordings we had made.