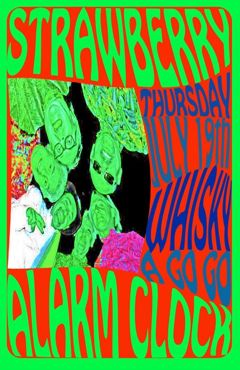 Following up on the success of its recent L.A. concert, the Strawberry Alarm Clock continues the momentum with a show at the historic Whisky a Go Go.
Surprisingly, the Thursday, July 19, concert will be the first time the veteran L.A. band played the rock club on the Sunset Strip.
The late April concert at the Satellite Club in Silver Lake and the upcoming Whisky gig are in support of the Strawberry Alarm Clock's first album in more than 40 years: "Wake Up Where You Are,"
now available on Amazon.
The Whisky a Go Go is located at 8901 Sunset Blvd., West Hollywood (view map). It is an all-ages club.
While the Alarm Clock never played the club, bassist George Bunnell, singer-drummer Randy Seol and longtime collaborator Steve Bartek performed there as Buffington Rhodes in 1968, on an eye-popping bill that included Ten Years After, Chicago Transit Authority and Alice Cooper.
The Strawberry Alarm Clock did play the Hullaballoo Club on Sunset in 1967, the same year the young musicians found fame with the hit single "Incense and Peppermints." They opened for Arthur Lee's Love, the top band on the Strip.
Later Hollywood-area gigs were at the Knitting Factory, the Palace, the Viper Room, and the Pig and Whistle.
1960s rock groups that made multiple appearances at the Whisky a Go Go included the Doors, the Byrds, Love and Buffalo Springfield.