Randy: 'The audience always lit up when we played'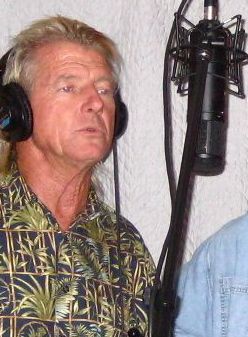 The Strawberry Alarm Clock turned out to be one of those magical bands, thanks to the chemistry of the players and the music it produced. The audience always lit up when we played.
I've had great and wonderful times getting back with the group, feeling the same chemistry and excitement from our audiences.
Here's the story of how I got my start and joined the band:
At the age of 5, I used my folk's furniture as drums. It wasn't long after that my Dad got me a practice-pad drum set and private lessons.
I knew I liked playing and it was in kindergarten that I learned the power and communication of drums. I was given a drum during our group exercise to keep the beat while my fellow classmates walked in line. I soon found I could make everybody run or come to a slow crawl depending on the speed I played.
Growing up in Riverside, Calif., I loved listening to Gene Krupa and Sandy Nelson. At 8 years old, I joined my first band, a trio called the Goldtones with Glenn Campbell, a steel guitar player who later went onto play with the Misunderstood and Joe Cocker. After we won my first talent show, I graduated from a two-piece Slingerland set to a four-piece Gretch.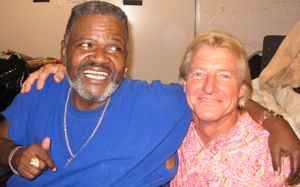 (Photo, right: Randy backstage with Buddy Miles.)
Winning that contest got us noticed and we started playing live on a country radio station every Sunday. When I was 10, we went on a tour of bowling alleys in California, playing backing up for Kirby Grant of the TV show "Sky King" and performing our first single "Strike" along with the B-side "Gutterball."
The Goldtones grew to a six-piece band. I started singing, playing vibes, marimbas and bongos.
I started getting into Louis Belson and other double bass drum players. I added a tom-tom and bass drum to my set making it a six-piece. I then set out to learn all percussion instruments.
We made our first album at the Teen Beat Club in Las Vegas and it featured my first original, "Midnight in Vegas." My Dad told me that a new English act playing a concert at the Convention Center needed a drummer. The act was Peter and Gordon.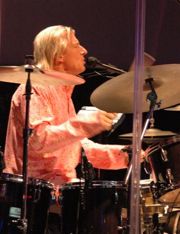 The audition consisted of my Dad playing them a demo tape and I was hired on spot. The show went great and at 14 years old I had performed in my first major concert. I knew then that was what I wanted to do.
During my Junior High School years, I was in the marching and jazz bands. In 9th grade, our jazz band won a local competition, which entitled us to play for and be critiqued by Stan Kenton. I learned so much that day, what a great memory!
Soon after that my father felt my musical advancement was limited in Riverside so our family moved to the San Fernando Valley. Check out this Inland Empire radio station writeup: (PDF). That's when I left the Goldtones to become a rock star in Los Angeles.
I started taking singing, acting and dancing lessons. It was after I joined Act III that I learned music theory for harmonizing. During this time I was making good money playing drums in the college pub scene.
At the same time L.A. music and psychedelic rock were taking off. Almost in the same month I auditioned for Sky Saxon and the Seeds, the Electric Prunes and the new and upcoming Sixpence, which later became the Strawberry Alarm Clock.
I was hired by the Strawberry Alarm Clock to create harmony and sing second lead on "Incense and Peppermints." When their drummer quit, I was hired as a drummer, writer and lead singer. The Strawberry Alarm Clock gained its fame from the single "Incense and Peppermints" off the gold album of the same name.