The Strawberry Alarm Clock opens its 2015 gigging with a "slightly unplugged" concert in Canoga Park, followed by a trip back to Hollywood's famed psychedelic den the Whisky a Go Go.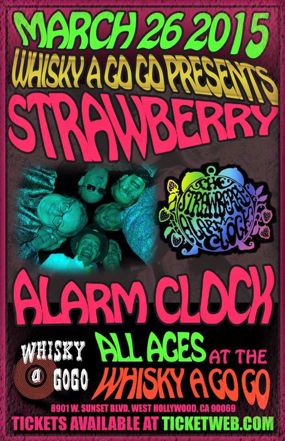 Feb. 7 sees SAC at the Guitar Merchant on Topanga Canyon Boulevard. It's a "semi-acoustic set," says band member Mark Weitz, who's going to be playing a grand piano. The Guitar Merchant, a music store, seats about 100 people in its concert mode, so it'll be a great chance to see the Strawberry Alarm Clock in an intimate setting.
The Guitar Merchant show is at 8 p.m. on Saturday, Feb. 7. Admission is $20. Support from Brad Lee Swanson and his CF Band. (map to venue)
On March 26, it's back to the Sunset Strip and the Whisky a Go Go, where the Strawberry Alarm Clock tops a busy bill. The band played a well received set at the Whisky in the summer of 2012 — surprisingly, it was the first time the veteran L.A. band played the famed rock club.
Longtime SAC collaborator Steve Bartek (Oingo Boingo) will perform with the band at both shows. Listen for some new Strawberry Alarm Clock songs at the shows, in the vein of the band's recent CD "Wake Up Where You Are."
Also scheduled to play at the Whisky are Their Only Dreams ("throwback psychedelic sound minus the ego"), Slow White, the Shag Rats, the Night Times, the Electric Magpie, the Wandering Gypsies and Major Minus. All-ages show; doors at 7 p.m. (get tickets)
The Sunset Strip venue is rich with psychedelic music history, of course: 1960s rock groups that made multiple appearances at the Whisky a Go Go include the Doors, the Byrds, Love and Buffalo Springfield.