Lee: 'a gentle soul and free spirit'
Lee Freeman, our bandmate and brother, passed away in early 2010.
The L.A. Times asked SAC bassist George Bunnell about Freeman, whom he called "a gentle soul and free spirit — you can hear it in his songs."
Bunnell told this story about guitarist Freeman:
"We were asked by Dick Clark to take part in his movie 'Psych-Out.' He asked us not only to appear in it as ourselves, but to provide several songs as the landscape.
"More importantly he asked us to write the theme song. He had been using Simon & Garfunkel's 'Sounds of Silence' as the temporary theme. He wanted something along those lines as the central character played by the late Susan Strasberg was deaf and blind.
"Lee immediately had an idea for the lyrics and along with our guitarist Ed King they wrote and sang one of the most gorgeous pieces of psych pop ever recorded, 'Pretty Song From Psych-Out.' Not the title they had intended the song to have … but, oh well."
Like most of the longterm band members, Freeman was in and out of the band a few times over its history. He was an original member of Thee Sixpence in 1966 and remained as the band gained new members and morphed into the Strawberry Alarm Clock.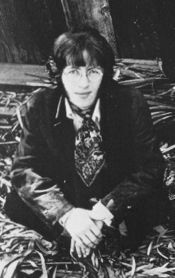 The garage band rocker "Lose to Live," which he wrote with keyboardist Mark Weitz, was a highlight of the Strawberry Alarm Clock's first album.
In the B-movie "Psych-Out," Freeman was seen playing drums because drummer Randy Seol was up front, playing bongos and singing.
He was key in reuniting the band in 1982. The story goes that he saw an ad for the Strawberry Alarm Clock playing a club. Suspecting yet another group was living off his famous band's name, Freeman attended and found out the ad was a ploy by the club owner to reunite the original Strawberry Alarm Clock. He succeeded.
Freeman continued to play with the band in the reunions of recent decades and participated in some of the group's recordings in the new century.
His "Love Story" rocker of 1995 was the band's contribution to the sprawling various-artists compilation "World Jam," which raised funds to fight hunger. (Video below. Also, hear "Love Story" on MP3. It was produced by Steve Bartek. Aside from its residency as a Freeman memorial on YouTube, "Love Story" remains an SAC rareity.
Freeman's participation with the band faded over the next several years, as he became increasingly frail and sidelined by illness.
Freeman was born Nov. 8, 1949, in Burbank, and died of cancer Feb. 14, 2010, at his home in the Bay Area.