Gene: I heard the band's new name and thought, 'What's up with that?'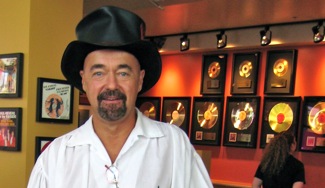 I was born in Anderson, S.C. on July 4, 1949. My twin sister, Jan, passed away in 1994; my older brother is Ken and my younger brother is Steve.
I lived in South Carolina for 12 years, then moved to the Glendale/Burbank area, near Los Angeles.
In the early '60s my brother Ken played guitar in his surf band. I picked up coronet in junior high. But when I watched my brother's band rehearse I was intrigued by his drummer, and said to myself, "I can do that! That's what I want to do!"
My Dad bought me a set of Gretsch drums for my birthday. After school I would sit at the drums with a stack of 45rpm records on the player, and learn all the drum parts of all the popular songs of that time.
For a while, Ken and I had a band called the Ravens. Then I joined a country & western band, Lonnie and the Legends.
At Hoover High School in Glendale, I formed a band with Gary Lovetro, Steve Rabe and Mike Luciano. Steve left and Ed King joined. For whatever reason, Mike left the band and Lee Freeman of Burbank High joined. I was the leader but when Ed decided at one point to leave, we offered him the position of "leader" of the band if he would stay. He did.
The band decided it needed a keyboard player. So Mark Weitz joined.
The name of the original band was the Quaker Oats. But we realized we couldn't keep that name for very long (due to the cereal company). The British invasion was in full swing, so we changed our name to Thee Sixpence. Pinstripe suits, Beatle boots and all. The band played extensively in Santa Barbara, in pizza joints and such, covering songs by the Beatles, Rolling Stones, the Animals, the Standells, the Music Machine and so on.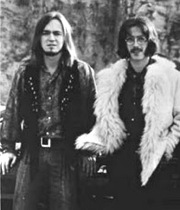 After Thee Sixpence signed a contract with All American Records and recorded a mix of cover songs and some original songs with no success, I became a bit discouraged. We had good singers but I thought we needed a "recognizable" voice — a lead singer — in order to be a success.
(Photo: Gene, left, and Lee Freeman in 1969)
In early 1967, Mark wrote a tune. He asked Ed to help him finish it. But the song had neither lyrics nor melody. Just a "basic track." We went into the studio and recorded it. We also recorded "Birdman of Alkatrash" with Mark's signature vocals. "Birdman of Alkatrash" was going to be the "A" side of the single, and the song with no lyrics nor melody was going to be the B side.
Then my jealous girlfriend convinced me to "get a real job," one with a future and income. So I quit the group and got a job at McDonald's.
Meanwhile, the partial song developed, lyrics were written and that was "Incense and Peppermints." A friend from another band, Greg Munford, ended up doing lead vocals. I thought, "Here's a song, with another band's singer singing it." Thee Sixpence still was in need of a lead singer. And, to top it off, the band changed their name to the Strawberry Alarm Clock. I thought, "What's up with that?"
After a while, Ed King called and asked that I reconsider leaving the band. He said, "I've got a different feeling about this song." I was hard-headed and in love. I declined to rejoin the band. Randy Seol replaced me.
In a relatively short period of time, "Incense and Peppermints" became No. 1 in America for a solid record-breaking eight weeks. I was pissed at myself for making such a bad decision. And I never married that girlfriend.
I found another band, Hunger. Recorded an album with them, played various venues around Southern California, including the Whiskey A Go Go. Then our truck with all our equipment — including my original set of Gretsch drums — was stolen. Hunger stuck together for another year hoping to strike a record deal and get new equipment. That never happened.
Two years after leaving Thee Sixpence/Strawberry Alarm Clock, while I was still playing drums in Hunger, Ed King told me that Randy had left the group and asked that I rejoin the Strawberry Alarm Clock. I asked Ed if the plan was to be a rock 'n' roll band and he said yes. I happily rejoined in 1969. Jimmy Pitman (of the Nightcrawlers) was the new lead singer. I thought Jimmy's voice was great. We struck a deal with the Ludwig Drum Company and I got a new set with red-sparkled double bass drums.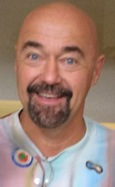 As the band struggled again to regain its success, Jimmy left and was replaced by Paul Marshall. Mark Weitz eventually exited as well. The band was in the movie "Beyond the Valley of the Dolls." That group was Lee Freeman on bass and vocals, Ed King on lead guitar and backup vocals, Paul Marshall on guitar and vocals, and me on drums.
In February 1971, the band broke up with the help of an earthquake in Sylmar, near Burbank. Ed and I lived in the same apartment complex. We looked at each other and said, "Let's get the hell out of here." We got in a car and headed to Las Vegas for a few days. Ed decided to move to Jacksonville, Fla., to join an little-known band that opened for us during a tour though the South. That band was Lynyrd Skynyrd.
I was ready to leave California as well, move back home to South Carolina, but was sidetracked when the road manager for the Everly Brothers asked that I audition for their band, two weeks before a European tour. I tried out along with guitarist Waddy Wachtel and we were welcomed into the band by their keyboardist/band director, Warren Zevon.
I was with the Everly Brothers band for two years until they broke up in 1973. I married a short time later and we had two children.
During the next few years of rehearsing and playing with the Waddy Wachtel Band and Warren Zevon, discouragement and lack of money forced me to look elsewhere for work.
Then, while still living in Burbank, I joined a Christian rock group, A Band Called David, as backup for the well-known group the 2nd Chapter of Acts along with Barry McQuire ("Eve of Destruction.").
In 1980, due to a divorce and remarriage (and eventually two more kids), I left the Christian group and began playing local clubs with a country & western band. I also joined a cover band called The Rockin' Jimmies. With manager and producer Roy Marinell (co-writer of Zevon's "Werewolves of London") at the helm, we rehearsed original songs with no success. I also had a brief reunion with the Strawberry Alarm Clock.
Meanwhile, I'd started a company that specialized in decorating special events and parties. Eventually, working both jobs became too much. Although music was my first love, my decision to be a responsible husband and father forced me to pick the job that was paying the most money, event decorating. So I left music for many years. Eventually, after a second divorce, I moved to Las Vegas in 2000, continuing to decorate events.
In 2007, I got an email from Paul Marshall saying that the Strawberry Alarm Clock was reuniting for a film festival and Roger Ebert had asked the band to perform after the showing of "Beyond the Valley of the Dolls." I learned that Mark Weitz was aboard. I knew that since Mark was joining there had to be "something special" about this particular incarnation of the group. Since I was the drummer at the time the movie was released, it was only fair that I be a part of the band. Also, learning that Steve Bartek was in the band, I felt there was an added ingredient for a solid foundation for the group.
So, finally, both Randy Seol and I became permanent drummers in the band, both of us switching between percussion and the drum kit.