By Michael McDowell
For a veteran band to survive for four decades with a reasonable percentage of their original lineup intact is remarkable. For such a band to flourish and maintain a high level of creativity at that stage of their career is a rarity. And for two such bands to occupy the same stage on a given night is nothing short of a miracle.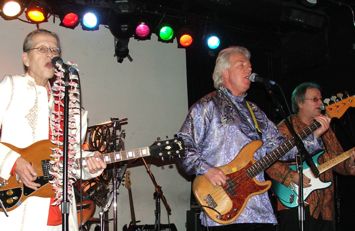 A miracle is exactly what transpired on the evening of Dec. 28, 2007, at the Knitting Factory in Hollywood, Calif., as a capacity crowd joined the Strawberry Alarm Clock and Electric Prunes in celebrating the 40th anniversary of the year that brought them their greatest chart successes, 1967.
As expected, both bands did so with the passion and verve that endeared them to their audience from the beginning.
(Pictured: Lee Freeman, left, George Bunnell and Howie Anderson of the Strawberry Alarm Clock.)
"This is the last chapter", explained Electric Prunes cofounder and front man, James Lowe. "So we choose our way."
Although Lowe's oblique reference to mortality will hopefully not manifest for some time to come, to be certain, the high death rate in recent years amongst veteran artists has not gone unnoticed by either band. Yet with seemingly little to prove (in light of the astoundingly high quality of both band's recorded legacies), each not only revisited key components of their respective catalogs with undiminished optimism, but (especially in the Electric Prunes' case) introduced new material into the set that more than holds its own against their earlier triumphs.
The Strawberry Alarm Clock took to the stage with an undeclared but obvious mission statement: Great music is timeless. The band's three-guitar and dual-percussionist approach enables them to not only add a Spector-esque depth to their live performances, but it also frees each member to improvise and/or solo, as needed.
In their endeavors to articulate and underscore their mission statement, the Strawberry Alarm Clock most assuredly did not disappoint. The band drew extensively from not only their earlier incarnation as Thee Sixpence, but from their vast album catalog, as well. This of course meant that not only were such career highlights as "Rainy Day Mushroom Pillow," "Birds in My Tree," "Barefoot in Baltimore" and "Theme From Psych-Out" showcased in all of their rich and intricate glory, but that the band as instrumentalists also were able to shine.
Of particular interest was the nearly 20-minute drum solo by Randy Seol, who more than reiterated his ability to execute with the pure passion and intensity of such percussion greats as Micky Dolenz, Keith Moon and the late Dennis Wilson. Likewise, George Bunnell and Lee Freeman remain charismatic front men. Although each shared the spotlight through the majority of the band's set, Bunnell and Freeman are able to instinctively discern each another's strengths, which in turn enables them to effortlessly default to one another's abilities as needed on given selections.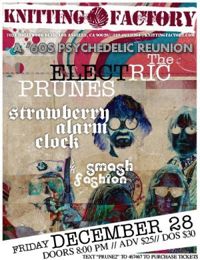 This tag team approached served the Strawberry Alarm Clock particularly well for not only a spirited cover of the Skip James/Scot Richard Case classic, "I'm So Glad," but for the animated and exuberant run-throughs of their career highlights. Those included the lush and irresistible December 1967 hit single, "Tomorrow" (complete with Harpers Bizarre-inspired vocals and inventive use of minors), plus the much-loved "The Birdman of Alkatrash" and their inevitable (and most assuredly welcome) monster hit, "Incense and Peppermints."
The latter cuts were particularly ideal for showcasing the versatility of keyboardsman Mark Weitz, who is also the band's principal tunesmith, having composed "Incense and Peppermints," "The Birdman of Alkatrash," "Tomorrow," "Barefoot in Baltimore" and "Sit With the Guru," amongst others.
The Rolling Stones observed James Brown and the Famous Flames with considerable apprehension from backstage at the landmark 1964 TAMI Concert in Santa Monica, Calif., knowing that they had the dubious honor of attempting to follow Brown's larger-than-life set. Likewise, following the Strawberry Alarm Clock after a performance of that caliber would have been a next to impossible task for all but the most capable of artists. Only a seasoned band like the Electric Prunes would have been able to rise to the occasion, which they did so in abundance.
To their credit, both the Strawberry Alarm Clock and the Electric Prunes view their respective collaborations not so much as competition, rather as a joint effort by two groups of long-term allies and colleagues with like minded, yet clearly defined individual mission statements. And to their considerable credit, the Electric Prunes have underscored the ongoing validity of their legacy by not only touring regularly during the current decade, but also by recording prolifically.
At the Knitting Factory, the Electric Prunes took to the stage with co-founders Lowe and bassist Mark Tulin at the helm. However, conspicuous in his absence was original Prunes guitarist Ken Williams. Accordingly to Lowe, Williams is still recovering from neck surgery. In Williams' place is lead guitarist Steve Kara. Drummer Walter Garces and rhythm guitarist Jay Dean round out the band's current lineup.
"Except for the first two gigs, there has never been any attempt to reconstruct the band as it was in 1967." Lowe explained. "We look for the best presentation of the music, both yesterday's and today's."
To that effect, the Electric Prunes opened with perennial favorite "Long Day's Flight." Rather than merely replicate the recording, Lowe, Tulin and their colleagues utilized their extensive experience to embellish that and other Prunes fare with deviations from the conventional arrangements that in some respects enhance and/or complete the earlier renditions.
"We let everyone contribute to make the show pleasant and the songs playable," explained Lowe. "It comes out different every time. That's what makes it fun!"
The fun to which Lowe referred was demonstrated in large measure at the Knitting Factory, as the Electric Prunes soared magnificently through a set that meshed such hardcore devotee favorites as "The Great Banana Hoax" (from their "Underground" album), "I Happen to Love You," "Hideaway," "Lost Dreams" and early single sides "Ain't It Hard" and "Little Olive" with such recent triumphs as "Circus Freak" and the highly spirited "I'll Give You Feedback," both from their 2006 "Feedback" album.
With the latter cut, the band took considerable artistic license from the recorded version.
"Yes, it was artistic license", said Lowe. "('I'll Give You Feedback') on record depends on organ for balls and grind. (But on stage), there is no organ. We don't own one! All bands convert things a little to make a live presentation that works for them."
Given the late great Del Shannon's infamous analogy about the tedium of having to play the same set on stage night after night, it would seem logical that for the sake of keeping the proceedings fresh, that the Electric Prunes would likewise approach their two most noteworthy hit singles with some degree of the aforementioned artistic license.
But in the case of their January 1967 "I Had Too Much To Dream (Last Night)" Reprise label single, the band not only confounded expectations by offhandedly defaulting to it during mid-set, they in turn also underscored the fact that Lowe's maxim with respect to artistic license would not necessarily be anathema to whatever purist element may have infiltrated the audience.
With only modest deference to that demographic, the band instead opted to close with what many regard as their definitive track, the intense and ferocious April 1967 smash, "Get Me to the World On Time." And although the various players indeed took a considerable degree of liberty with its familiar arrangement, in no way was any of the extreme intensity of the original version sacrificed.
"By that time (in the set), I'm always thrashed!" said Lowe.
To be sure, the Electric Prunes are far too visionary in their perspective to not endeavor to exceed expectations with each live performance. Lowe's well-known disenfranchisement with the purist element has indeed driven both him and Tulin to consistently seek higher musical ground.
"Some people keep up their chops," Lowe explained. "Some don't want to learn anything new and choose to rely on what (already) went on. In other words, they can't get into reality. They want to live in the past".
To be sure, it is Lowe's forward thinking approach that has kept the creative juices flowing for the band, and has also enabled them to not fall prey to Del Shannon's aforementioned maxim. Now at peace with their legacy, the Electric Prunes also remain in the coveted position of being a vital source of musical innovation.
Nonetheless, the ongoing support of the purist element is not lost on Lowe.
"I went to Amoeba and bought one of our vinyls," he said, in reference to the gargantuan Amoeba Records Store on Sunset Boulevard in Hollywood. "That's pretty cool for 2008, just having some in there."
And that the Electric Prunes and Strawberry Alarm Clock not only have a huge recorded legacy from which to draw and expand upon, but that both bands continue to remain vital contributors and innovators at this juncture is something for which we can all be thankful. Or as James Lowe succinctly put it, "That's what makes it fun!"
Michael McDowell is the editor and publisher of Blitz Magazine. Review used with permission.
Photo credit: Aaron Feliciano/C&P Blitz Magazine 2007. All rights reserved.